Visit Linda at
2nd Cup of Coffee
for linking up and seeing others' answers!
1. Describe the best sandwich in the world, according to you.
Right now I'm really craving chicken salad on toasted wheat bread, but a close second is the faithful peanut butter and jelly. A third might be grilled cheese, or a deli turkey sandwich.

2. Which inspires you more: a good conversation, a song, a book or movie?
Wow, all of these can be very inspiring! So if I absolutely have to choose one, I would say a good conversation because it is the most real, as in "living in front of me" opportunity.

3. What is your favorite board game?
Cities and Knights of Catan

I have spent many many hours playing this game with friends from church.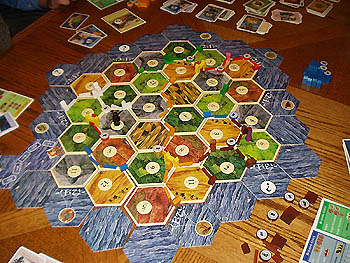 One couple taught a group of us at Family Camp, and we were up until 2, 3 or 5am every morning all week, playing Catan!
The players (2-6) in the game represent settlers establishing colonies on the island of Catan. Players build settlements, cities, and roads to connect them as they settle the island. The game board representing the island is composed of hexagonal tiles of different land types, which are then collected as resources with which to further build, and are laid out randomly at the beginning of each game, so every game is different!

4. As you grow older, are you more or less patient with small children?
I haven't lost my patience yet. :)

5. Name one item you never let yourself run out of.
Either love for my family and friends, or battery power in my cell phone.HA.

6. Do you agree with Tennyson's assertion, "'Tis better to have loved and lost than never to have loved at all?"
I suppose, however losing love is very painful.

7. Name one national treasure or monument that you have visited.
I have been to Washington D.C., therefore I have seen a number of our nation's great monuments and memorials, including the Washington Monument and Lincoln Memorial, however I'm not really "big" into these things. I prefer museums or natural beauty (Yellowstone Park, Niagra Falls, the Grand Canyon, etc.)

8. Which is more painful, to be disappointed in someone else or to be disappointed in yourself?

I forgives others quicker than I forgive myself, so being disappointed in myself may be more painful.
9. What makes your kitchen uniquely yours?

This is difficult because I don't actually have my own kitchen, however... maybe that the cupboards are stocked with peanut butter, peanut butter cereal, peanut butter granola bars, and peanut butter cookies??
If peanut butter and peanut butter-related items (including, but not limited to peanut butter fudge or pie) were sold in store-front windows, I might look like this from the other side of the glass.
10. Are you a crafty person?
I claim to not be, but there is evidence that might say otherwise. Last Spring I made and sold more than 100 personalized journals to raise money for my trip to Mozambique.
11. What is your favorite traditional picnic or bbq (cookout) food?
Aunt Regina's sweet corn! [Or macaroni salad]
12. Name one leisurely activity you enjoyed over Labor Day Weekend.
Labor Day Weekend for most IWU students is not traditional for the reason that it is also move in weekend. However I have already been settled for a week, and my weekend was consumed with new student and campus-related activities such as: a movie on the lawn, going to Ivanhoe's for a peanut butter/banana/frosted flakes sundae, and shopping!

Me and 7 of my freshmen on the front row lawn!